Discussion Starter
·
#1
·
I finally had my day on the track at Moroso Motorsport Park in Florida!
I was nervous, slightly scared (of what I was getting into), and excited!!!
First I had to get my brake lines bled, replace my stop tech pads with some racing brake pads and my OEM rims and tires placed back onto shezhot. Friday my son and I left Georgia headed to Winter Haven where we would have the swaps take place at Nick's place. Then we traveled to Moroso. This motor park is located off the Beeline hwy in Jupiter, Fla:
http://www.na-motorsports.com/Tracks/FL/Moroso.html#TrackMap
Nick's website:
http://www.ntechengineering.com/
I had a blast. I was told that my Z may sustain substatial damage by flying rubber, rocks, and debris so I bought three rolls of blue painters tape and proceeded to make a nose mask for shezhot that was worthy of space flight!!
On Saturday we drove to Moroso. The grounds of the park we covered with every car imaginable for sport. I drooled as I saw 3 Z's (Brick, Black, Silver), a lot of vette's, vipers, porsche's, and more!
I took my place in the classroom to learn all about how to track a car, the flags they use to communicate with you while you are on the track, and looked at a few damaged cars from previous events.
Next it was time for my track run. My instructor was Denise. She is a race driver and had a few races to drive that weekend. She rode with me each time I went out (three 30 min lap sessions) and gave me very detailed instructions on how to corner, brake after high speeds (my top speed was 94 then braking to about 65-70 to take on some of the tightest curves), and keep my momentum going through the apex so I could shoot down the straights with greater speed.
I had a blast. Nick, who is my mechanical engineer
races his blue Z and was specatcular at placing 7th the first day and 4th on Sunday (this is out of 20 cars and starting last). He has a new Power Enterprise Twin Turbo that sounds so sweet!! It's the quietest TT I've ever heard.
Well here are some pics...ENJOY!! I know I can't track again for a few more months. It's an expensive but addictive hobby. I plan to return to a track in December. I want to try Sebring next!
Getting brakes bled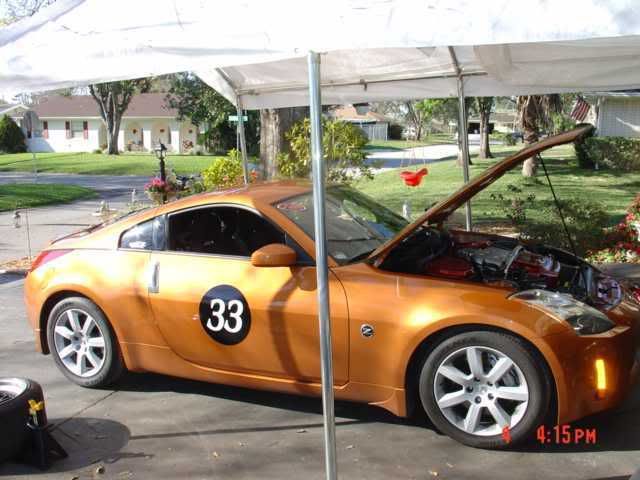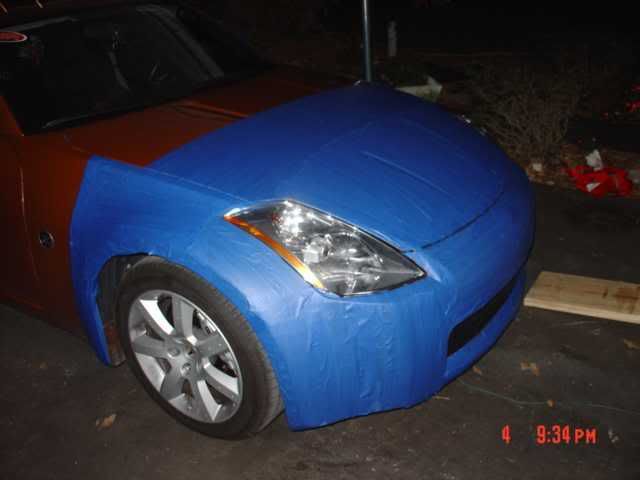 Moroso Saturday Morning