Discussion Starter
·
#1
·
http://jimwolftechnology.com/news.asp
350Z TWIN TURBO KIT UPDATE Date:3/7/2005
The G35 TT kits are finished and awaiting final CARB certification. While this has been almost a full year of work, it will be the only street legal turbo kit for the G35 and 350Z available. The good news is that the 350Z version has been completed and in dyno testing mode at this time. Below is the 350Z engine layout. Both kits will be ready to ship once the certification process is complete. Note the intercoolers on the 350Z below. A completely integral center casting was designed to achieve a near perfect flow to the throttle tube, while using the maximum frontal area of the stock body nose. No stock parts including bumber bar or air bag sensors are moved or modified! Also note that all of the fluid bottles retain the stock locations.
JWT 350Z/G35 TWIN TURBO SYSTEM UPDATE Date:10/24/2004
To update you on the JWT 350Z/G35 Twin Turbo system, we have completed development and are in the final emission cert. process. This system uses a pair of JWT 530BB Ball bearing turbos JWT presently offers for the Z32 TT. While the package is targeted at 400HP, the 530BB turbos are designed for 530HP, offering a lot more potential with internal engine mods. Check back here, as we get closer to the release. Thanks for your patience; we are sure it'll be worth the wait!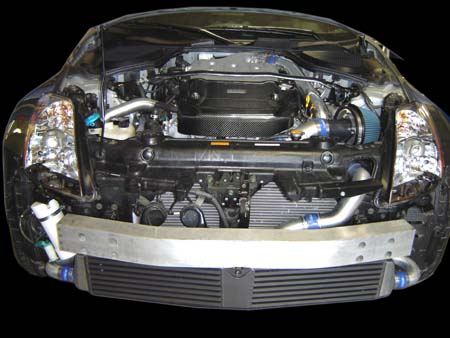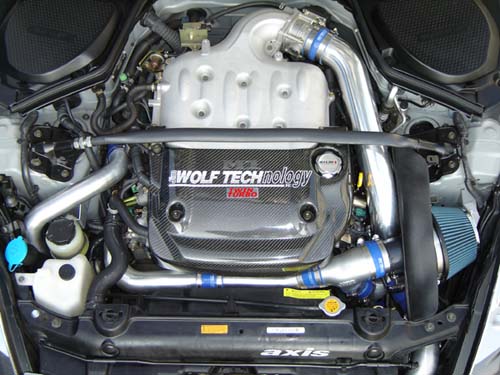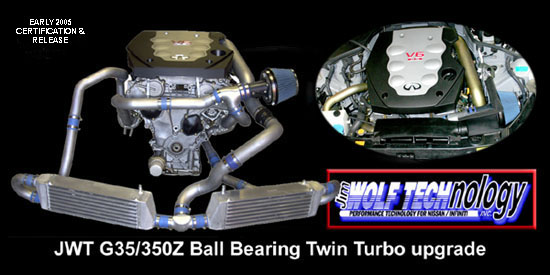 [IFRAME]http://jimwolftechnology.com/news.asp[/iframe]
BTW, anyone else think JWT's site is wayyy outdated and looks like crap for a company that's been in the business for 30 years?