Discussion Starter
•
#1
•
Accidentally tint your tails too dark? Here's what I ended up doing to un-tint them and re-tint them. I'll try to include as many pics and as much information as possible to try and provide visual aids. Now I'll admit, that I went a bit overboard and put several coats of the tinting, and several coats of clear coat enamel - pictures of that below.
This is the tails post tinting. They are completely dark at the day, and you can barely see the brake lights at night.
This is a side by side comparison of the tail after one has been cleaned next to the one that is still tinted too dark.
And keep in mind, the tail lights won't be pretty and shiny and perfect looking, but that's okay when you're done removing all the spray paint. Here's my arsenal of tools I used:
***** DISCLAIMER ***** I am in NO way a professional, just your complete average car modder than does things wrong and sometimes does things wrong trying to fix them. This method worked for ME. I am NOT saying it will work for you, this is simply here for information for those that wish to try it. I am in no way responsible for anything that happens to you or your car by following these instructions.
150 grit sanding block
400 grit sandpaper
600 grit sandpaper
2000 grit sandpaper
acetone
washcloth, one side soft, one side with abrasive(will see in pics)
First thing I did was cover one part of the "abrasive side" of the washcloth in acetone and went over the lights. This was in attempts to remove several of the clear coating layers and thin out the pain layers if I get that far through. I have been told NOT to use it to completely strip the paint because it will weaken the plastic housing. I didn't have any problems, but just wanted to tell you what the "Lowes Pros" told me.(The guy was also useless for what it's worth)
I went over the tail a few times, covered the rag almost by the end of it and got as much of the coatings off as possible. I did all of this in the sink. Was fairly clean and easy to work with. Just be sure not to get water in the back of the housing or else you have to let it dry out before you re-mount them.
I used a LOT of elbow grease and a LOT of work(several hours) with a mixture of the 150 grit sanding block, and the 400 grit(wet) sandpaper on the housing to get most of the layers of paint off. I also used a "paint removal wheel" to save myself a lot of time on the end of a drill. Be careful with this because this CAN scratch the tails if you get too heavy. Looks like this thing: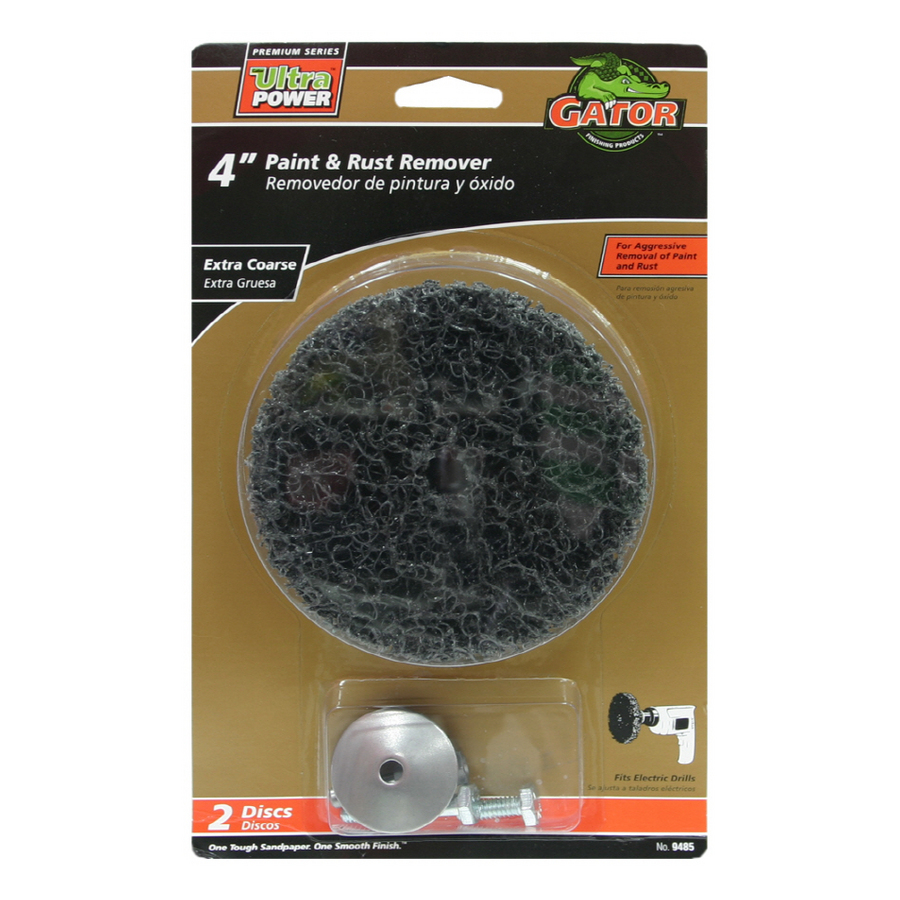 They ended up coming out looking like this after all of the sanding and getting as much paint off as possible:
You can see a few places where I got all the paint off and got to tail, that's how I knew to stop. Then I took the other side of the washcloth and acetoned that and wiped the tail down pretty heavily. After you get most of the paint off, it will be red for the most part with a few spots here and there that almost look like the tail is stained black. Just use your 400 grit wet paper on those spots until the housing is a nice red. I did this with the tap running over where I was sanding, so it looked pretty shiny when I had it sanded good. Then I sanded those same areas with a 600 grit wet. After I did that, due to lack of materials, I did it again with a 2000 grit wet. Came out like this next to the other one:
You can see by far, it's not shiny, mildly dull, but that doesn't matter when you're going to recoat them. I repeated the same steps for the other light. I then laid out a blanket again with both lights side by side so I could compare the spraying and make sure I did them evenly. There's not much to this part, but I can tell you this.... DO SMALL COATS! SPRAY OVER IT ALL ONCE THEN LET IT DRY! If you're reading this tutorial, then you've learned... YOU CAN ALWAYS DO MORE, BUT YOU CAN NEVER DO LESS!!! I redid them with the VHT Nightshades again and the clear coat enamel with the sprayer. Sprayer was like 5 bucks, clips onto the can, and REALLY REALLY helps to evenly spray and gives you better can control IMO.
The above is how they look after I re-did them with the coating how I liked them. It looks dark still, but if you look at the picture below from a better angle from the behind, you can see how its a bit lighter looking.
This is what the car looks like AFTER the retinting and mounting, etc. Clearly, they are lighter, but don't appear that much lighter.
And this is what it looks like with the brake lights on... might not be the best picture, but I used a rock to hold the brake pedal down while I took the pic and it had ants on it... I didn't want ants in my car so I hurried
and yes, I know after looking close enough, it looks like one is still lighter/darker than the other light... but I don't care at ALL about that now that I can actually see them in the daytime
This is my first DIY tutorial with pics, so I'm sure it's not as good as others. I just wanted to share with the community my experience and what I did to right my wrongs, so to speak. If you're in the Dallas area, I'd be more than happy to help you with yours or if you're not, I'll offer as much advice as I can either on here, over the phone, whatever helps. I know how much it sucks doing something wrong and then not knowing how to go about redoing it. Give me any feedback or questions you have here and I can take more pics if you want or edit the information to make this a helpful DIY. Thanks!