Discussion Starter
·
#1
·
Hey all,
Got my car lowered today with the Hotchkis springs which I ordered from the US.
The drop is as advertised approx 15mm in front & 19mm in rear.
The car now sits nicely and it is really noticeable in the rear.
My quick driving impression is that it is almost exactly the same as stock (seeing that the spring rates are not much different, slightly harder in the front and softer in the rears).
I did notice that there was much less bump harshness coming from the rears when I went over a few speed humps.
At higher speeds, it seems almost the same although I did notice less bodyroll (probably because it now sits lower).
The cost was as follows for those interested:
Springs shipped to Aus; $360.00
Fitting and wheel alignment: $265.00
Still cheaper than pedders & eibach in Oz wanted $660.00 just for their springs!
On that note, my wheel alignment guy has told me that I am now at the max for my specs so there is no more adjustment. The specs:
camber rear: left -1'43 right -1'45
camber front: left -1'18 right -1'12
toe rear: left +0,4mm right +0,1mm
toe front: left +0,2mm right +0,1mm
Is this good, I really do not know????
Anyway, it makes me glad that I went for the Hotchkis rather than the Eibachs for my tyre wear sake, althought the 1 inch drop alround with the Eibachs would look better!
Here are before & after shots. note that they probably will settle down alittle further over the coming weeks with some more driving. Will be ordering either Hotchkis or Eibach sways in the next few weeks which should complete my suspension package.
BEFORE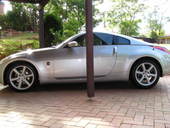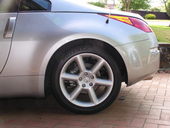 AFTER