Touring Member
Join Date: Feb 2004
Posts: 529
Mentioned: 1 Post(s)
Tagged: 0 Thread(s)
Quoted: 39 Post(s)
(Thread Starter)
Happy 14th Anniversary With My Preorder Z!
---
This month marks 14 happy years with my preorder 350Z track model. The order was originally placed in December 2001 after I heard the new Z was a go at the SCCA Runoffs. The GM at the Colorado dealership was skeptical that Nissan would actually release a new sportscar that he hadn't yet heard of! My deposit was for MSRP only--and while I paid a premium--it was worth it. It's been the best and most reliable car I've ever owned, and still brings a smile to my face every time I start it up!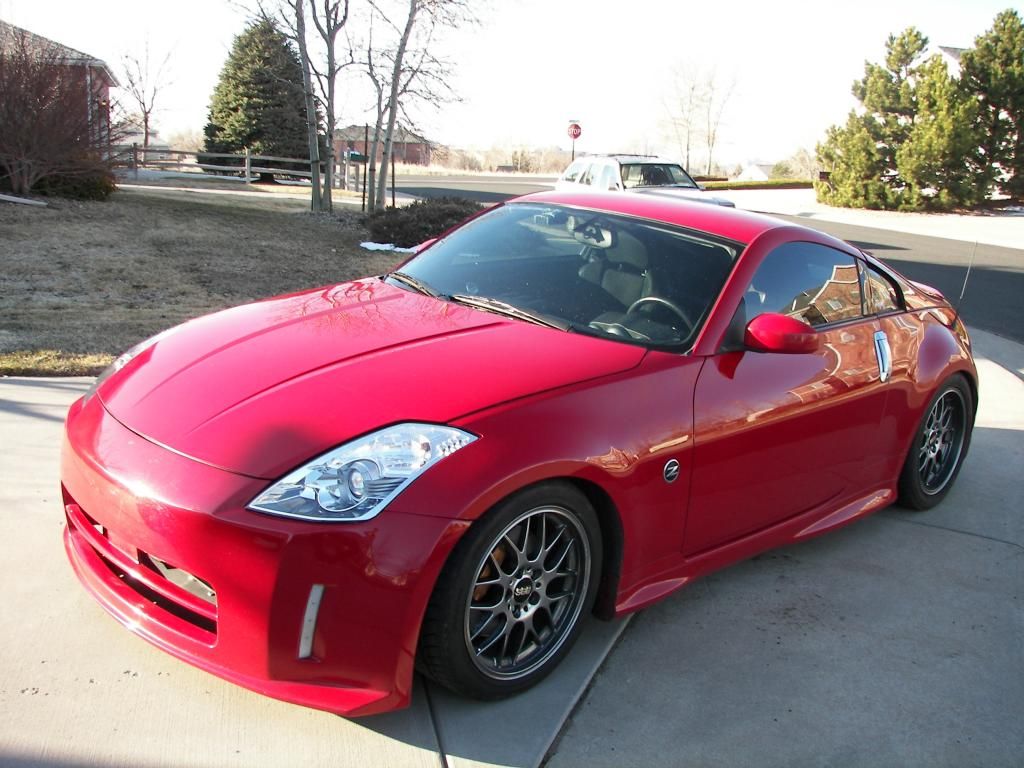 Hard to believe it's been 14 years since I first took delivery of my Redline coupe. It's been modded and tuned to suit my tastes in handling, but still emphasizes reliability and utility in everyday use. I can't drive it every day here in Colorado, and it stays safe and dry in the garage when the white stuff really falls. But it remains a good example of how strong Nissans can be if you don't screw with them too much.
Touring Member
Join Date: Feb 2004
Posts: 529
Mentioned: 1 Post(s)
Tagged: 0 Thread(s)
Quoted: 39 Post(s)
(Thread Starter)
Even after all these years, I love the lines on my Z33. Paint is still original, although the Aerosync bumper and NISMO V2 sideskirts and rear bumper canards were added back in 2008.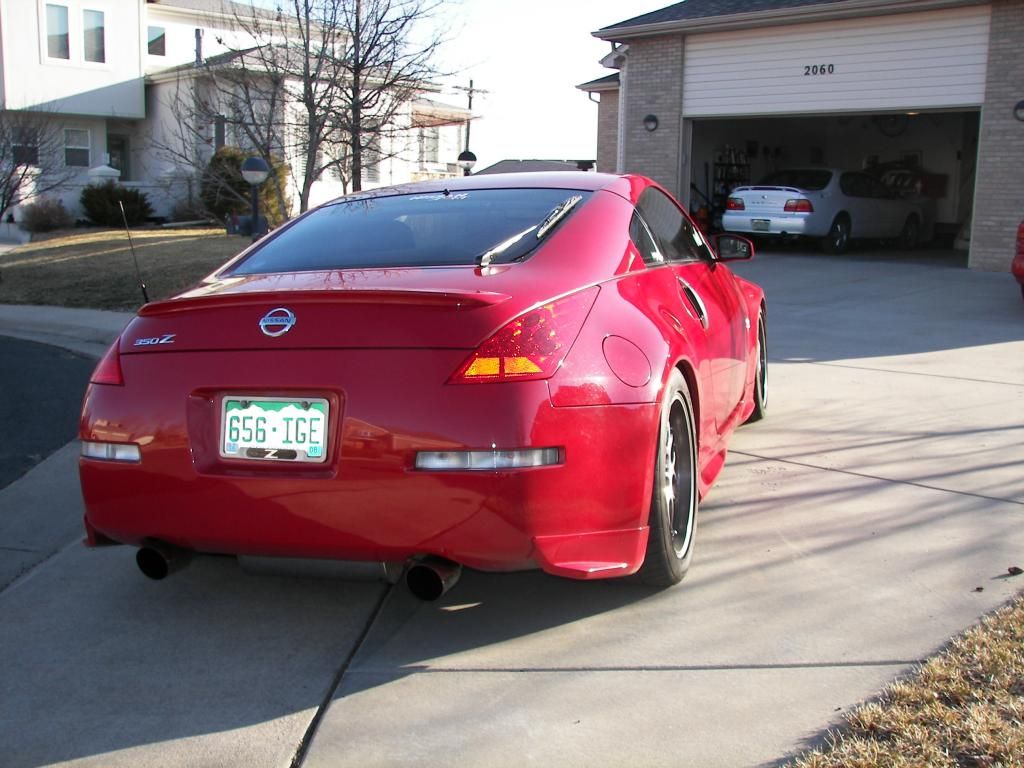 I wonder if there are any other pre-order Z owners here? Are there ANY of us left?
Touring Member
Join Date: Feb 2004
Posts: 529
Mentioned: 1 Post(s)
Tagged: 0 Thread(s)
Quoted: 39 Post(s)
(Thread Starter)
With so little traffic on this site, I think I'll keep updating this thread until someone responds or I get bored. While my Z is a DD during good weather, it's also had a good number of adventures. Back in the day,
Nissan Sport
used to have driving classes and events in Colorado, New Mexico and SoCal. My Redline coupe has seen time at tracks from Mid-Ohio in the east to Cal Speedway and Big Willow in the west. Here's a photo from one of the events at LaJunta Raceway in southeastern Colorado: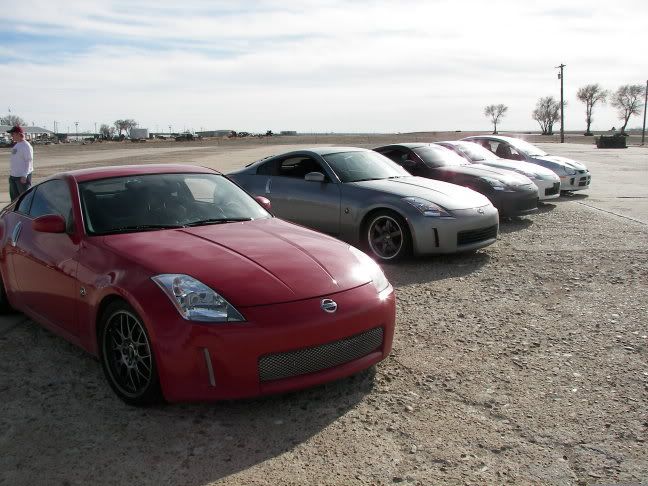 Those were fun and safe events, with driving exercises, course walks and lapping at speed. We were fortunate to have a perfect safety record and the worst damage was to one my rear Goodyear GS D3 tires, which suffered a puncture that day. Had to limp the Z home on the spacesaver spare, but even that was no problem for the Z.
Touring Member
Join Date: Feb 2004
Posts: 529
Mentioned: 1 Post(s)
Tagged: 0 Thread(s)
Quoted: 39 Post(s)
(Thread Starter)
Weekend update- We've been having some terrific weather on the front range of Colorado. Today I stopped for lunch in the busy LoDo (lower downtown) district of Denver. Parked my '03 track on Larimer street and walked across the street for lunch. I noticed a late model GT-R parked in front of the Denver Central Market and went over to check it out after a fine meal. I know my R35s and this had to be a '14-16 Black edition in Regal Red. Problem is, was hard to tell the color due to the heavy deposits of road grime on the flanks and stern of this particular supercar. Worse yet, the Rays forged alloys were caked with brake dust, and looking through the black spokes it was easy to discern heavy brake wear. Those humongous Brembo rotors were deeply dished and probably at, or past, the 2 mm wear limits.

Now, I'm the last one to say you shouldn't drive your R35 HARD and use it the way it was designed to be driven! But it was clear from the dried-on deposits that this GT-R had been driven hard and put away wet far too many times. I looked across the street at my (relatively) pristine Z33, with clean paint and relatively polished BBS wheels, and felt a twang of pride. Certainly, after 14 years and 94K of driving, there's been plenty of washing, cleaning and detailing to do. It's been a pleasure to keep a shine on the Z and I can't imagine it wouldn't be any less a pleasure to wash and wax that poor GT-R.

On the ride home on I-70, there was a plethora of cars on the highway. Predictably, there's an older flat black Eclipse who blasts past and wants to race. I ignore the idiot and his plastidipped ride. After awhile, my cruise takes me past a yellow and black '73 Mach I Mustang and I admire the spotless chrome and paint on that classic model. I take a glance over at the driver and predictably, it's an older enthusiast out for a drive. And while it wasn't quite an epiphany, the thought does occur that clean, well-maintained Z33s are NOT an ordinary sight in my town. Maybe in SoCal or Florida, but not here. As more of them get crashed, cut-up or just plain abused, ALL of us should realize the pool of good, clean and well-maintained Z33s is shrinking. In the meantime, I'll be on the lookout for a smoking' GOOD deal on a well-used red R35 that could use some TLC.
Touring Member
Join Date: Feb 2004
Location: Republic, MO
Posts: 638
Mentioned: 0 Post(s)
Tagged: 0 Thread(s)
Quoted: 8 Post(s)
Your Z still looks great. I have had my Z for 13 years 4 months so I have also had it for a long time. It still looks good and the paint is original.
---
Not everyone who lost his life in Vietnam died there. Not everyone who came home from Vietnam ever left there.
Touring Member
Join Date: Feb 2004
Posts: 529
Mentioned: 1 Post(s)
Tagged: 0 Thread(s)
Quoted: 39 Post(s)
(Thread Starter)
Thanks- your Z looks great as well! It's been a pleasure detailing the original paint and I resisted re-shooting it a few years ago because I still like it. Keeping any car garaged helps, of course, but washing, claying, polishing and sealing really makes a difference.
Posting Rules

You may not post new threads

You may not post replies

You may not post attachments

You may not edit your posts

---

HTML code is Off

---